As I woke up this morning to a new year, I watched the sun rise from beyond the Sierras, while snow clouds hovered low and tempting. I kissed my wife goodbye, and headed to the office, stopping at one of the many Starbucks along my route for some coffee and breakfast.
This is a life I am immensely grateful for, not just on Memorial Day or Veterans Day, but every day.
My grandfather, Reuben Lesikar, served during WWII aboard the USS Hornet CV-8 until it was sunk in the Battle of Santa Cruz, and my uncle Henry "Mac" McReynolds served in the Green Berets in Vietnam. Yet, neither of them ever spoke much about their experiences.
As I have gotten older, and as I've had the privilege to meet and serve many clients who have served our country over the past 70 years, I think I have begun to understand a little bit of the pain and sacrifice endured by those who have served in our military.
To protect our country and defend our freedoms, our soldiers pay a particularly high price, both physically and mentally, and their families pay an equally high price.
To those of you who are Veterans, please know that you have our deepest respect and gratitude.
Currently, over 1.3 million Americans serve our country in the U.S. Armed Forces. These men and women serve various roles stateside and abroad. Soldiers, Airmen, Sailors and Marines demonstrate their selfless service by putting their lives on the line. They often face long deployments and sacrifice time with family while serving.  In addition to our active duty service men and women, there are over 22 million Veterans.
While there are many good organizations supporting our Veterans, we would like to take the opportunity to highlight one that has been around for nearly 100 years and remains a strong resource for our Veterans: The American Legion.
The American Legion provides services to our Veterans, their families and to local communities. As the nation's largest wartime Veterans service organization, The American Legion is committed to mentoring youth and sponsoring wholesome programs in our communities.  To get more information or to support The American Legion, visit its website at www.Legion.org.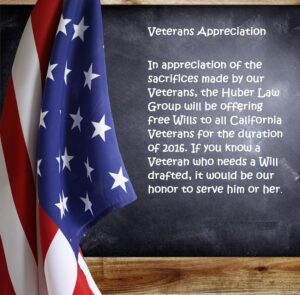 The post Reflections on our Freedom appeared first on Huber Fox, P.C..